Silverlight 2 Controls V5.1.6 Released
We have added the Color Selector and DropDown controls to this release, the first providing a way for a user to select a predefined color from a list in a popup. The DropDown enables you to have any control "drop down" like the standard ComboBox.
The main change with this release is the splitting up of the library into six separate assemblies, this has come about due to the size of a single dll being more than 350KB and the majority of users only needing to use one or two controls. This means if you only need the Rich TextBox the dll is around 150KB or the TreeView which is around 80KB. See the list below to find out which assembly contains which control.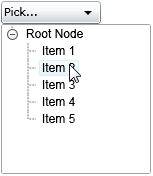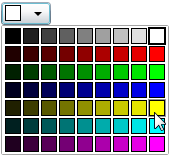 There are also many bug fixes in this version especially the Rich TextBox which has had new features implemented such as line spacing and text input pattern matching allowing for scenarios such as emoticon replacement etc.
Reduce XAP Size with Six New Assemblies
Liquid (RollerBlind, Scroller, TextRollerBlind, Viewer, ItemViewer, ProgressBar, DropDown, ColorSelector)

Liquid.RichText (RichTextBox, RichTextBlock, TextBlockPlus, Table)

Liquid.TreeView (Tree, Fieldset)

Liquid.Popup (Dialog, MessageBox, Bubble)

Liquid.Menu (MainMenu, Menu)

Liquid.Components (Spell Checker, Uploader, MousePlus)
You will need to update any references you have in your XAML to the new dll name.