New Silverlight Table Control
The new Silverlight 2 Table control is similar to the standard Grid control, except with this all rows and columns can be resized easily and borders can easily be applied to cells. You can also configure header rows and columns with all the logic of setting background colors handled for you.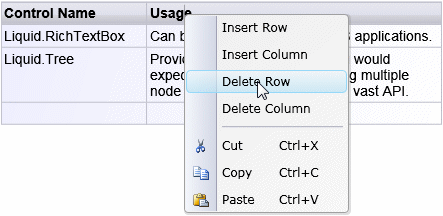 The Rich TextBox Demo page uses the new Table control which can also be exported to HTML using the HTML conversion functionality of the Rich TextBox.
Implementing a context menu in your Rich TextBox application is also possible now as there is support for detecting the right mouse click (your Silverlight application must use Windowless="True"), the Rich TextBox demo can be downloaded and shows how to implement this functionality.