New Silverlight 4 Tutorials
Whilst looking at the new Silverlight 4 features we thought we would share some of the information we found. Here are some simple code examples showing how to use the Web Camera, Desktop drag and drop, client-side File System TreeView, HTML rendering, Interacting with Word and Excel, Desktop Notifications, Clipboard and Right Mouse Clicks.
Drag and Drop Files from the Desktop
Ever wanted to drag and drop a file or a group of files from your desktop into your Silverlight application? Well now its possible in Silverlight 4.
Browse the Local File System
Here we have a vectorlight TreeView showing the contents of the local file system.
Local File System - Generating a Navigation TreeView
Displaying HTML in Silverlight
An age old problem has now been (partially) resolved, when running in Out of Browser (OOB) you can display a block of HTML.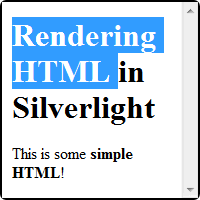 WebBrowser - Displaying HTML in Silverlight
Web Camera and Mic
This is a cool feature and one which will generate a lot of crazy Silverlight applications.
Web Camera - View the live image stream and take pictures
Word, Excel and other Applications
Ever wanted to open Outlook and send an email? Or open Word and create a document, all from within your Silverlight application? Well, with the new support for COM objects now you can.
Communicating with Excel from Silverlight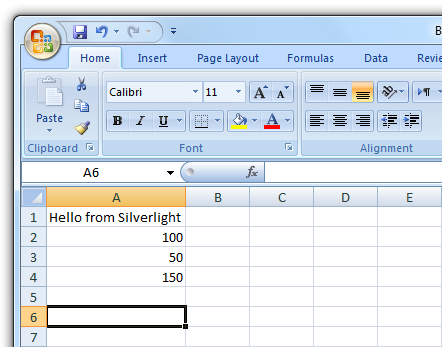 Communicating with Word from Silverlight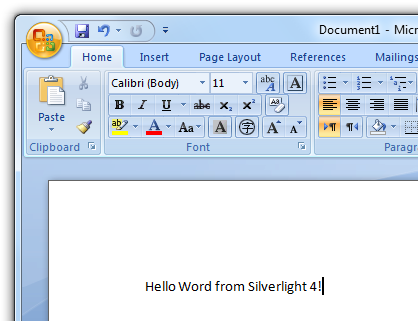 RichTextArea Control
This RichText input control will come as standard in Silverlight 4, here we show how to perform basic formatting.
RichTextArea Control - Basic Formatting
Desktop Notifications
With the new NotificationWindow class you can now send useful information messages to the user.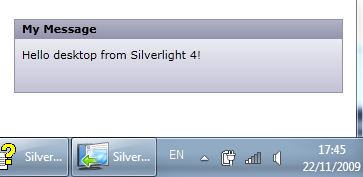 Desktop Notifications ("Toast")
Right Mouse Clicks and Context Menus
The long awaited right mouse click functionality has arrived and we show how easy it is to detect right mouse clicks and to render a context menu.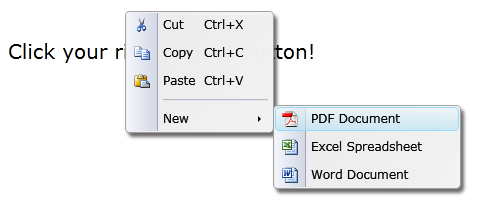 Clipboard Access
This is another piece of functionality essential in todays business application and here we show how to place content onto the clipboard and also read text content from it.