Silverlight 2 Controls V5.1.1 Released
In this release we have removed the Calendar, DatePicker and NumericUpDown controls due to standard versions of these controls being available in the main Silverlight 2/Toolkit release. We have added two new popup controls, namely the MessageBox which is a simplified version of the Dialog control and the Bubble Popup which is already used in the Rich TextBox control for spelling suggestions.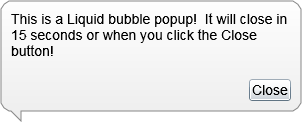 Along with the addition of these two controls there has been substantial changes made to the Popup dialog and FieldSet controls to make them easier to use, the key differences which may affect you are listed below:
All controls now inherit from ContentControl, previously they inherited from Control. This has resulted in changes to the Dialog and FieldSet controls and makes it much easier when using these controls to reference their child elements.

Dialogs now use a ContentControl for each part, the main and the expanding right-side.

FieldSet now uses a ContentControl for its content.
The base control LiquidControl which all these controls are derived from has been much simplified to enhance performance, as a result some of the properties previously available such as Isfocused is no longer avaliable, to determine which control has focus use FocusManager.GetFocusedElement().