New Silverlight Menu and Scroller Controls
Included in version 5.1.4 of the controls library is the new Menu control allowing Silverlight 2 developers to easily implement main menus and also context menus. Also included is a Scroller control allowing content to scroll automatically in any direction and any speed with or without user interaction.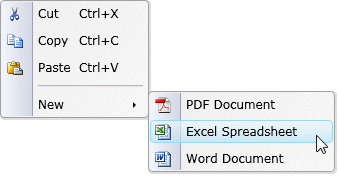 The new Controls Demo page contains several examples of the new Main Menu control and the Rich TextBox demo has been substantially improved to show how easy it is to implement a complex menu system with a few lines of XAML.