Google Chrome and Silverlight
With the recent release of Google Chrome in BETA form has prompted us to investigate it's compatibility with Silverlight and also the vectorlight.net site and all the Silverlight demos contained here. It seems the initial version offered by Google was not compatible, with Silverlight apps either running very slowly or not at all.
This situation has however changed now in the latest build which completely fixes the initial problem. So, to support Chrome we have adjusted our Silverlight menu control for each of our pages to work correctly in all browsers including Chrome. All of the Liquid Controls have been tested and seem to function correctly, further testing is being carried and we will update the library as necessary.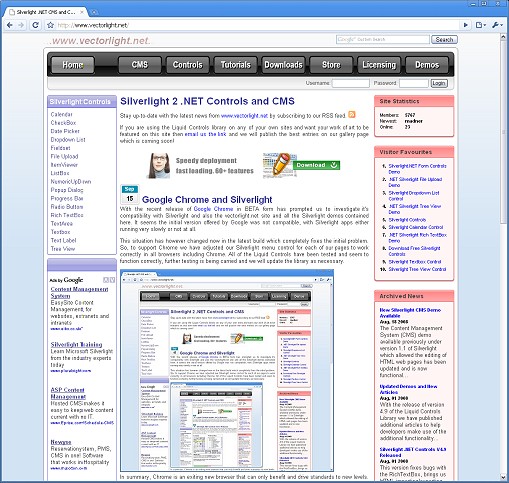 In summary, Chrome is an exiting new browser that can only benefit and drive standards to new levels. It's compatibility with Silverlight is a big plus for both Microsoft and Google.