Silverlight Rich TextBlock
The free Rich TextBlock control provides a read-only view of a Rich Text XML file generated by the Liquid Rich TextBox.
This Silverlight only Rich TextBlock Control is easy to implement on your Silverlight driven website and is also customizable to provide a visual feel suitable for any site design.
To use the Rich TextBlock control you will need to add a reference to Liquid.RichText.dll in your project.

You need to login to Download the RichTextBlock example, If you do not have a login you can register for free!
How to Use the Rich TextBlock Control
To use the Rich TextBlock on your Silverlight page:
<

UserControl x:Class="RichTextBlock.Page"
xmlns="http://schemas.microsoft.com/winfx/2006/xaml/presentation"
xmlns:x="http://schemas.microsoft.com/winfx/2006/xaml"
xmlns:liquidRichText="clr-namespace:Liquid;assembly=Liquid.RichText"
Width="500" Height="300"

>
<
Grid
x:Name
="LayoutRoot"
Background
="White"
>
<
liquidRichText:RichTextBlock
Width
="180"
RichTextURL
="RichText.xml"
/>
In this example we load an XML file containing Rich Text, this is called RichText.xml and is specified in the RichTextURL property. It is important you have this file included in your project.
using
System.Collections.Generic;
using
System.Windows.Controls;
using
System.Windows.Documents;
using
System.Windows.Input;
using
System.Windows.Media;
using
System.Windows.Media.Animation;
using
System.Windows.Shapes;
{
public
partial
class
Page
:
UserControl
{
{
InitializeComponent();
}
}
}
Example Silverlight Rich TextBlock Control: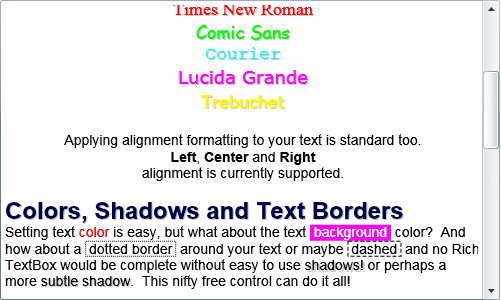 Further Information